Laboratory Vertical Sand Pump
Labaratory Verticle Sand Pump / Laboratory Sand Pump
Description
XBSL Vertical Sand Pump can be used in laboratory to convey ore pulp and discharge tailings. It can also be used to transport medium in coal washing plant, easily crystallized slurry under high temperature in aluminum plant and materials in cement factory.
Advantages
1. Compact structure and long service time;
2. Stable operation and high efficiency;
3. Highly corrosion resistant;
4. Low noise and vibration.
Technical Specification
Specification of Laboratory Vertical Sand Pump

| Model | XBSL13 (1/2") | XBSL19 (3/4") | XBSL25 (1") | XBSL38 (3/2") |
| --- | --- | --- | --- | --- |
| Outlet Dia. (mm) | Φ13 | Φ19 | Φ25 | Φ38 |
| Head (mm) | 5 | 6 | 9 | 12 |
| Flow Rate (L/min) | 20-30 | 55 | 110 | 250 |
| Feed Density (%) | 30 | 30 | 30 | 30 |
| Power (kW) | 0.75 | 1.1 | 1.5 | 3 |
| Voltage (V) | 380 | 380 | 380 | 380 |
| Dimensions (mm) | 420×280×460 | 480×350×550 | 680×500×640 | 690×480×680 |
| Weight (kg) | 65 | 110 | 157 | 200 |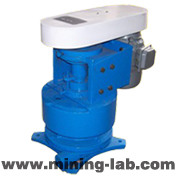 Laboratory Vertical Sand Pump
General Inquiries
Tel: +86-159 5822 9409
Technical Support