Laboratory Disk Vacuum Filter
Laboratory Disc Vacuum Filter / Laboratory Vacuum Disk Filter / Laboratory Vacuum Disc Filter
Description
GTEK multifunctional Disk Vacuum Filter is a lab apparatus for intermittent or continuous filtration. It can be used in laboratories of mining, metallurgy, geology, chemistry, construction materials, petroleum, papermaking industry, ceramics industry, as well as in pilot factory for dewatering and solid liquid separation use.

There are two different filter disk with different capacities in the disk accumbent filter. Slurry of different amount can be directly fed into the disk corresponding disk for dewatering operation. The filter is mainly composed of chassis, vacuum pump, filter disk, suction cup, electrical accessories and connection pipeline.
Advantages
1. Reliable quality, nice appearance;
2. Convenient operation, stable running and high efficiency;
3. Efficient filtration for difficult filtering mineral and low density pulp.
Technical Specification
Specification of Laboratory Disk Vacuum Filter

| Model | -- | XTLZ-Φ260/Φ200 | DL-5CΦ240/Φ120 |
| --- | --- | --- | --- |
| Filter Disk Diameter | mm | Φ260/Φ200 | Φ240/Φ120 |
| Vacuum Pressure | kPa | 80 | 91.2 |
| Pulp Solid-to-Liquid Ratio | -- | 1:(4-7) | 1:(4-7) |
| Dry Weight of Sample | g | 0.5 | 0.5 |
| Max. Feed Size | mm | 600 | 500 |
| Filter Cake Moisture | % | 8-20 | 8-20 |
| Filtration Time | min | 1-10 | 1-10 |
| Voltage | V | 380 | 380 |
| Power | kW | 1.5 | 1.6 |
| Overall Dimensions | mm | 650×540×1140 | 1030×420×970 |
| Weight | kg | 200 | 160 |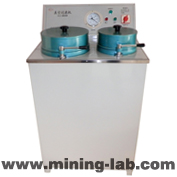 Laboratory Disk Vacuum Filter
General Inquiries
Tel: +86-159 5822 9409
Technical Support