Laboratory Disk Pulverizer
Laboratory Disc Pulverizer / Laboratory Disk Mill / Laboratory Disc Mill
Description
Laboratory Disk Mill or Laboratory Disk Pulverizer can be used for intermittent and continuous fine grinding of hard-brittle and medium-hard materials in the field of mining and metallurgy, glass industry, ceramics industry.
Advantages
1. Wide range of materials for contamination free grinding;
2. Reproducible results due to accurate gap setting;
3. HMS grinding discs with long working life;
4. No foundation bolt is required.
Technical Specification
Specification of Laboratory Disk Pulverizer

| Model | Φ150 | Φ175 | Φ250 |
| --- | --- | --- | --- |
| Feeding Size (mm) | ≤6 | ≤6 | ≤6 |
| Discharging Size (mesh) | 80-180 | 80-180 | 200 |
| Main Shaft Speed (rpm) | 1050 | 1050 | 800 |
| Throughput (kg/hr) | 6-20 | 10-35 | 20-50 |
| Dimensions (mm) | 290×515×360 | 550×490×365 | 290×515×360 |
| Weight (kg) | 90 | 130 | 180 |
| Power (kW) | 1.1 | 1.1 | 2.2 |
Horizontal Lab Disk Pulverizer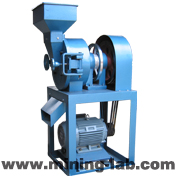 Vertical Lab Disk Pulverizer
General Inquiries
Tel: +86-159 5822 9409
Technical Support