Laboratory Double Roll Crusher
Laboratory Dual Roll Crusher / Laboratory Double Roll Breaker / Laboratory Double Roll Crushing Machine
Description
GTEK Laboratory Double Roll Crusher is designed for intermediate crushing of medium hard materials such as coal, coke, limestone, phosphosiderite, sulfur ore and coal gangue. Double roll crusher is widely used in laboratory of mining, metallurgical, coal, construction industry and etc.
Advantages
1. Efficient for crushing of materials with moisture content less than 15%;
2. Even final particles, no flaky and sticky materials;
3. Excellent design and easy operation.
Technical Specification
Specification of Laboratory Double Roll Crusher

| Model | Roll Size (mm) | Max. Feed Size (mm) | Discharge Size (mm) | Capacity (kg/hr) | Dimensions (mm) | Motor Power (kW) | Weight (kg) |
| --- | --- | --- | --- | --- | --- | --- | --- |
| XPC200×75 | Φ200×75 | 10 | 0-4 | 860 | 600×460×880 | 1.5 | 200 |
| XPC200×125 | Φ200×125 | 10 | 0-4 | 1500 | 780×660×574 | 3 | 315 |
| XPC200×150 | Φ200×150 | 10 | 0-4 | 1500 | 780×660×574 | 3 | 350 |
| XPC250×400 | Φ250×400 | 20-32 | 2-3 | 5000-10000 | 1430×1460×816 | 11 | 1300 |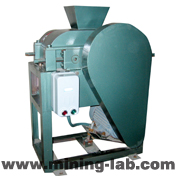 Laboratory Double Roll Crusher
General Inquiries
Tel: +86-159 5822 9409
Technical Support