Laboratory Jaw Crusher
Laboratory Jaw Breaker / Laboratory Jaw Crushing Machine
Description
GTEK Laboratory Jaw Crusher is designed for fast and efficient crushing of medium-hard rocks and ores. It is compact and of rugged construction for general laboratory or small pilot plant operations. GTEK Laboratory Jaw Crusher have a wide range of applications across many industries such as mining, metallurgical industry, coal, geology and chemistry.
Advantages
1. Simple structure, easy maintenance;
2. Stable performance and low noise;
3. Even final particles and high crushing ratio.
Technical Specification
Specification of Laboratory Jaw Crusher

| Model | Feed Opening Size (mm) | Max. Feeding Size (mm) | Regulation Range of Discharge Opening (mm) | Capacity (kg/hr) | Main Shaft Speed (rpm) | Motor Power (kW) | Weight (kg) |
| --- | --- | --- | --- | --- | --- | --- | --- |
| PE100×60 | 100×60 | ≤50 | 6-10 | 230-400 | 650 | 1.5 | 85 |
| PEF100×60 | 100×60 | ≤50 | 0.1-15.1 | 45-550 | 600 | 2.2 | 300 |
| PE100×100 | 100×100 | ≤80 | 3-25 | 400-1800 | 500 | 3 | 360 |
| PEF100×125 | 100×125 | ≤90 | 5-25 | 400-1800 | 500 | 3 | 360 |
| PE100×150 | 100×150 | ≤90 | 5-38 | 400-1800 | 500 | 3 | 360 |
| PEF125×150 | 125×150 | ≤100 | 6-38 | 500-1800 | 500 | 3 | 360 |
| PE150×250 | 150×250 | ≤125 | 10-40 | 700-5000 | 350 | 5.5 | 720 |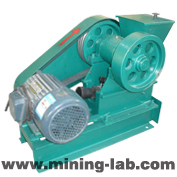 PE Laboratory Jaw Crusher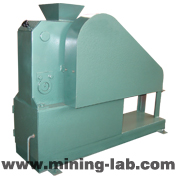 PEF Laboratory Jaw Crusher
General Inquiries
Tel: +86-159 5822 9409
Technical Support