Laboratory Hydrocyclone
Laboratory Hydro Cyclone / Laboratory Hydrocyclone Separator
Description
FX hydrocyclone is one of the most important devices in the minerals industry. It is widely used in the mineral industry processing as a classifier, which has proved extremely efficient at fine separation size. GTEK laboratory hydrocyclone can used in closed circuit grinding operations for general laboratory application, it also has many other applications, such as desliming, degritting, and thickening.
Advantages
1. Simple structure, long service time;
2. No moving parts;
3. Easy installation and to operation;
4. High efficiency.
Technical Specification
Specification of Laboratory Hydrocyclone

| Model | FX25 | FX50 | FX75 | FX100 |
| --- | --- | --- | --- | --- |
| Interior Diameter (mm) | 25 | 50 | 75 | 100 |
| Feed Pressure (MPa) | 0.1-0.5 | 0.1-0.4 | 0.1-0.4 | 0.06-0.35 |
| Cone Angle (°) | 20 | 20 | 20 | 20 |
| Overflow Particle Size (mm) | 0.2 | 0.3 | 0.6 | 1 |
| Cut Size (μm) | 2-10 | 10-74 | 20-74 | 20-100 |
| Overflow Port (mm) | 6 | 8,12 | 10,14 | 20,30 |
| Underflow Port (mm) | 2.5-4 | 5-6 | 6-8 | 14-30 |
| Capacity (m³/hr) | 0.3-1 | 1-2 | 2-5 | 5-12 |
| Overall Dimensions (mm) | 160×152×387 | 160×155×590 | 240×230×465 | 260×210×520 |
| Weight (kg) | 1 | 2 | 4 | 8 |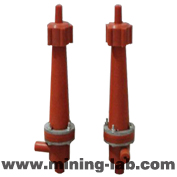 Laboratory Hydrocyclone
General Inquiries
Tel: +86-159 5822 9409
Technical Support