Laboratory Wet Drum Magnetic Separator
Laboratory Magnetic Ore Separator / Laboratory Magnetic Drum Separator / Laboratory Wet Magnetic Separator / Laboratory Magnetic Separation Equipment
Description
GTEK XCRS Laboratory Wet Drum Magnetic Separator is designed for the laboratory investigation of beneficiation of strongly magnetic minerals such as magnetite, maghemite, ilmenite and pyrrhotite. This low intensity magnetic separator is suitable for processing of fine strongly magnetic minerals, especially for removal of magnetic substance from powdered materials and purification of magnetic materials. It has wide application in the field of mining, metallurgy, glass industry, ceramics industry, as well as in the area of ash and slag processing.
Advantages
1. Electromagnet system and concurrent tank type;
2. Small in volume and light in weight;
3. Easy operation and convenient maintenance;
4. Uniform feeding of ores due to elevated agitating tank;
5. Wide range of magnetic intensity regulation.
Technical Specification
Specification of Laboratory Wet Drum Magnetic Separator

| Model | XCRS400×300 | XCRS400×240 |
| --- | --- | --- |
| Drum Size (mm) | Φ400×300 | Φ400×240 |
| Drum Speed (r/min) | 25 | 25 |
| Magnetic Intensity (GS) | 1250 (100 kA/M) | 1250 (100 kA/M) |
| Feeding Size (mm) | <2 | <2.5 |
| Capacity (kg/hr) | 20-60 | 20-50 |
| Motor Power (kW) | 0.25 | 0.25 |
| Overall Dimensions (mm) | 1515×1040×1500 | 1030×614×1196 |
| Weight (kg) | 200 | 300 |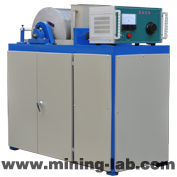 Laboratory Wet Drum Magnetic Separator
General Inquiries
Tel: +86-159 5822 9409
Technical Support