Laboratory Wet High Intensity Magnetic Separator
Laboratory Magnetic Ore Separator / Laboratory Wet Magnetic Separator / Laboratory High Intensity Magnetic Separator / Laboratory Magnetic Separation Equipment
Description
XCSQ Wet High Intensity Magnetic Separator is suitable for beneficiation of fine-disseminated hematite, martite, limonite and siderite in mineral processing laboratories, it can also be used for processing some of rare metals. GTEK laboratory WHIMS has achieved good test results beneficiation index in processing of low grade oxidized iron ore. For manganese, bench placer, wolframite, tin, glass sand and phosphate, it is also very efficient.
Advantages
1. Large magnetic action area and large processing capacity;
2. High magnetic intensity and high gradient.
Technical Specification
Specification of Laboratory Wet High Intensity Magnetic Separator

| Model | XCSQ50×70 |
| --- | --- |
| Separating Chamber Size (mm) | 50×70×220 |
| Magnetic Intensity Regulation (GS) | 0-2300 (1830 kA/M) |
| Coil Cooling Type | Forced Air Cooling |
| Maximum Feeding Size (mm) | 1 |
| Capacity (kg/hr) | 4-5 |
| Power Consumption (kW) | ≤4 |
| Dimensions (mm) | 843×552×1420 |
| Weight (kg) | 843 |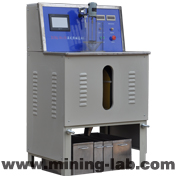 Laboratory Wet High Intensity Magnetic Separator
General Inquiries
Tel: +86-159 5822 9409
Technical Support